PLANTING
We recommend planting 6 different cultivars in order to create variability within the forest. This is recommended for clonal plantations of all plant species, being an important precautionary measure for the success of the enterprise and for future decision making. The clones must be planted in separate plots.
Seedling planting patterns involve clear and well developed roots; well aggregated growing medium; stem with at least 3 mm in diameter; at least 3 pairs of healthy and well-developed leaves. In addition to the quality aspects of seedlings to be planted, the registration in the Ministry of Agriculture and the nursery suitability are factors that contribute to the reforestation success.
Planting should be carried out soon after the seedlings arrive at the property. If the seedlings need to wait for some time before being planted, in the event of Indian summers for instance, it is highly recommended to build a waiting nursery under the sun. This is a simple structure that ensures proper storage of the plants by facilitating irrigation and promoting their aeration while preventing root contact with the ground.
Seedling preparation for planting begins with pruning the excess roots at the end of the tube. Then, processing the roots against termites by immersing the tubes in a solution prepared for this purpose. After soaking and drenching the substrate, the seedlings can be removed from the tubes and planted.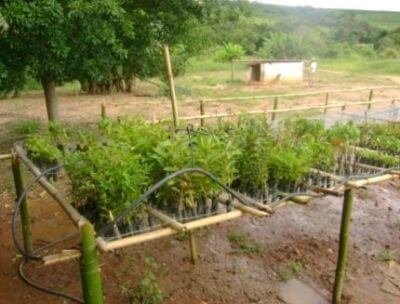 Waiting nursery to receive and store the seedlings before planting.
The seedlings must be planted with the top of the clod leveled up with the soil without exposure of the root system. One must also keep it from getting earth on the seedling stem. This measure is important because it prevents the drowning of plants and collar burning problems.
Planting should preferably occur in the rainy season, that extends from October to February in the Southeastern region. Periodic irrigations are recommended during Indian summers and late plantings. You will need to follow up with the seedlings to check for the need and the time period.
We do not recommend planting off the rainy season due to the high risk of mortality and the impossibility of achieving proper planting practices. If held outside of the rainy season, it will be necessary to have a setup for periodic irrigation upon plant development onset, especially during the 1st month after planting.
Herbicides offer serious risks to the Cedar Australian crop, at times resulting in the loss of the entire crop. We do not recommend the use of glyphosate in crops of this species, especially in the 1st year. Herbicides produced with haloxyfop have selective action concerning the Australian Cedar, significantly reducing the risk of its use.
Always control for weeds before fertilization.